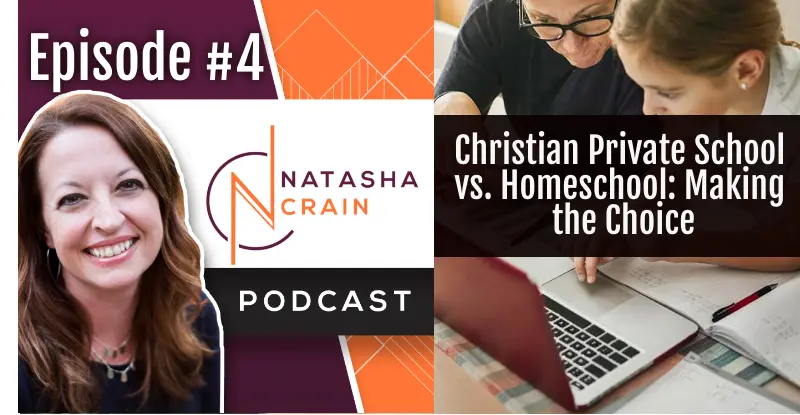 More parents than ever are considering alternatives to public school. In particular, many are weighing the relative benefits of Christian private school and homeschool. In this episode, I share about our family's six years of experience in Christian private school and what it's like to transition from a traditional school setting to homeschool (which we did this fall). If you're considering one or both options, this show will help you think through key questions before making a decision.
I discuss (in this order):
How Christian schools differ
What to expect from a Christian school
What NOT to expect from a Christian school
What I've loved most about homeschooling (so far)
The challenges I've encountered making the transition from a traditional school setting to a homeschool setting
Why every public school school parent should at least consider other options (even if another choice isn't made)
Additional resource mentioned in the podcast:
8 Things Christian Parents Should Consider Before Sending Kids Back to Public or Private School This Fall
NOTE: If you haven't subscribed to my podcast on a podcast player, you probably missed Episode #3: "Biblical Miracles: Why Should We Believe All This Stuff Really Happened?" Here's why. In between shows with totally new content (such as today's episode), I'm reading one of my past blog articles as an episode, along with some added commentary. I won't create a new post like this one to announce it since the content was already on the blog in written form. The only way you'll know when these "intermediate" episodes go live is if you subscribe in a player or regularly check my podcast page (you'll always be able to see a list of episodes to date there).
Listen to either of these episodes in your browser below, or find them under "The Natasha Crain Podcast" on your favorite podcast player!