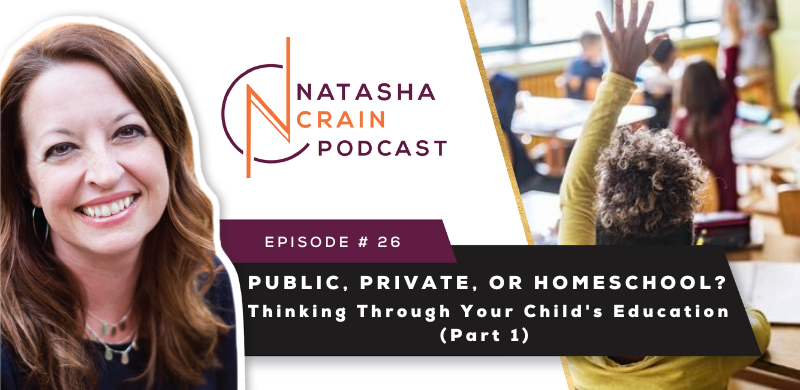 It's been a few weeks since I've been able to record a new episode of The Natasha Crain Podcast due to some unexpected circumstances, but I'm really excited to finally share today's show with you. This is a subject I've given enormous thought to over the last several years, and I know many of you have as well: How can we, as Christian parents, make the best educational choices for our kids?
How you educate your child should be a very intentional choice…certainly not something you default into just because you haven't considered the various options available. But making that decision can be difficult and confusing. In Part 1 of this episode, I walk through 6 key principles to keep in mind, followed by my thoughts on and experiences with homeschool in particular. In the next episode (Part 2), I'll go on to talk about Christian private school and then public school. I hope to post Part 2 next week.
Some points of interest in Part 1:
I discuss why your philosophy of education is absolutely critical to get right as a Christian parent (and how I had it VERY wrong as a younger mom with preschoolers).
I discuss why your educational choice in and of itself does not dictate your child's spiritual direction.
I explain how I would have done things differently (and why) if I could have done them all over again.
I share why homeschool has the POTENTIAL to be the most amazing thing you can possibly do with your child…and also several reasons why homeschool isn't ALWAYS the best choice for families.
For those who are curious, I talk about why our homeschooling time has come to an end.
There's a lot more in the episode, but this is just a sneak peak.
Search for The Natasha Crain Podcast in your podcast player and be sure to subscribe! If you don't have a player because you don't normally listen to podcasts, you can always listen to my episodes right in your browser here.
As a reminder, Alisa Childers, Frank Turek, and I will be doing our next Unshaken Conference on September 23rd in Tucson, Arizona, and tickets are now available! We'll also be in Nashville on November 4th. Get tickets for either date here.
And don't forget to check out and subscribe to my weekly Unshaken Faith Podcast with Alisa Childers! We are currently on break for the summer, but there are 19 episodes we published from January through May that you won't want to miss. They are short (15-20) shows on issues of cultural importance for Christians.
Watch for Part 2 of this episode to drop in the next week!