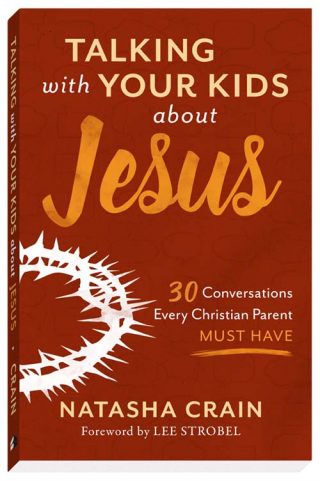 Talking with Your Kids about Jesus
Talking with Your Kids about Jesus will equip you to have 30 must-have conversations with your kids about Jesus given the challenging secular world in which they're growing up. Sections include 1) the identity of Jesus; 2) the teachings of Jesus; 3) the death of Jesus; 4) the resurrection of Jesus; and 5) the difference Jesus makes.
Order from Your Favorite Online Retailer
"Natasha Crain reminds us how important it is to integrate conversations about faith into our everyday lives with our sons and daughters. This compelling resource will equip you to point your child to the truth of Jesus's life, death, and eternal reign."
"When it comes to learning how to communicate with kids about God, I turn to Natasha Crain. She's funny, relatable, and most important, deeply rooted in the Bible. Talking With Your Kids About Jesus is part of a series of books (you need to get them all) that is soaked in Scripture and awash with powerful evidence, fantastic examples, and thought-provoking discussion questions. It's so sneaky the way Natasha gets me thinking more deeply about my own faith as I learn how to help my kids deepen theirs."
"Wow! Natasha Crain has compiled a power-packed guide that EVERY parent should read! Mom and Dad, this one is a PRIORITY! In a world where there is so much confusion about Christ, you will gain clarity and confidence and your kids will gain COURAGE from this clearly written and biblically solid manual. Talking with Your Kids about Jesus is a wealth of vital information written in an easy to understand way. Some great conversations await you and your family!"
"Natasha Crain should be a household name for every Christian parent longing to furnish their kids with a biblical worldview. Once again, this mother of three lays down tried and true principles about the most important conversations a parent can have with their kids about Christianity. What can be more important than that? Buckle up parents for an eye-opening read, as this wordsmith skillfully navigates her readers through the terrain of thirty MUST HAVE conversations about Jesus."
"This book! It's an answer to my prayers! Natasha Crain has provided thoughtful, practical, kid-friendly talking points I can use with my boys to equip them to face a world that often opposes their faith in Jesus. Talking with Your Kids about Jesus is a must-read for every parent!"
"For many years we've recognized the need for a resource that parents could use to become the best Christian "case makers" their kids will ever know. Natasha Crain has delivered that resource. Talking with Your Kids about Jesus will help you engage your kids in conversations that will make a difference for eternity. Get this book today and use it to answer your kids' questions, respond to the claims of skeptics, and guide your young believers to the truth."
"These are uncertain times and yet these are the very times that the Bible has anticipated. Jesus Christ told us that there would be days like this and you and I, as well as our children have a front row seat to it all! In light of this reality, our children need to be equipped with God's Word in such a way so as to help them navigate the challenges that are ahead. Parents no longer can assume that the local church or a favorite ministry will rightly and intentionally teach their children the answer to life's most important question, "Who is Jesus Christ?" That's why I am happy to endorse Talking with Your Kids about Jesus. Natasha Crain brings a timely clarion call to parents of faith to reengage the debate and to consider afresh just who Jesus Christ is according to the Bible and how to effectively teach their children not only the truth but how to argue in defense of the truth. This excellent read is worthy to be in your hands right now and in the hearts and minds of your children for the rest of their lives!"
"Jesus of Nazareth was undeniably the most influential human being of all time. But he was (and is) much more than that. He literally holds the key to eternity for all of us. How well do you know him? How about your kids? If you get Talking with your Kids about Jesus, you'll not only be able to gracefully equip your entire family with essential truths about Jesus, you'll also be able to inoculate them against all the misinformation about Christianity posted on the web and social media. As in all of her books, Natasha Crain brilliantly communicates what you and your children need to know to be bright lights in a world that continues to slide into darkness. Prevent your kids from succumbing to the darkness by reading this with them now!"
"Christian parents, this might be the most important book you ever buy to help you disciple your kids. In a culture that often presents Jesus as nothing more than a good moral teacher or all-inclusive post-modern guru, it's never been more important to clearly teach them who the object of their faith actually is. Natasha Crain has done a masterful job presenting the authentic Jesus from Scripture and illuminates what Jesus actually taught about things like judgment and love, and what it means to put our faith in him."
"Today it's easy enough to raise kids who calls themselves Christians and yet wind up claiming beliefs about Jesus that are completely contrary to the historic Christian faith. I've seen this tragic situation play out among my kids' peers, as a church elder, and in my media career as a Christian voice in the broader culture. In Talking With Your Kids About Jesus, Natasha Crain gives parents tools to fortify their kids' faith (and their own!) against the ruinous effects of the anti-authority, anti-truth culture they will inevitably encounter both outside and inside the church. The way she distills the latest objections and up-to-date scholarship answering those objections such that an ordinary layperson can understand it (and lead kids into a discussion about it) is breathtaking. We've had Natasha on our show several times. She is always clear, current, and solidly rooted in sound doctrine. That's what you'll find in these pages!"
"This book is a practical guide for having your most important discussions with the most precious people in your life. Use it, and your kids will grow in knowledge and faith—and you'll grow with them!"
"Natasha Crain has done it again! This collection of the most important conversations parents should have with their kids about Jesus is truly a must-have. Natasha writes excellent summaries without sacrificing important details, and will equip you to confidently engage with your kids on these vital subjects."
"In this book, Natasha provides parents the cheat sheet to the most vital conversations to help their kids answer the most challenging questions that confront their faith. Every parent needs not only intentionality but also the tools to prepare kids to defend their beliefs. I am always recommending Natasha's books in this series because they create the most compelling conversations with your kids."
"Today's child is being soaked in social media and video games, steeped in popular culture but not in spiritual life. Even as parents, we can be distracted and busy, never getting around to those important conversations that go deeper about Jesus. We may feel ill-equipped to answer questions that go beyond kids' church and inviting Jesus in your heart. Enter Natasha Crain. She's a mom who has done the research and who communicates in a way you'll understand. Read a chapter a day. Your faith and knowledge will grow and as a result, so will your child's."
PART 1: THE IDENTITY OF JESUS
Overview
1. Is Jesus a Myth?
2. Is Jesus the Jewish Messiah?
3. Is Jesus God?
4. Did Jesus Really Perform Miracles?
5. Did Ancient People Believe in Miracles Because They Were More Gullible?
6. How Can Jesus Be Both God and Human?
PART 2: THE TEACHINGS OF JESUS
Overview
7. Did Jesus Teach That He's the Only Way to God?
8. What Did Jesus Teach about Hell?
9. What Did Jesus Teach about Religion?
10. What Did Jesus Teach about Loving Others?
11. What Did Jesus Teach about Judging Others?
12. How Can We Know What Jesus Would Have Taught on Subjects He Didn't Address?
PART 3: THE DEATH OF JESUS
Overview
13. Did Jesus Predict His Violent Death and Resurrection?
14. What's the Relationship between Old Testament Animal Sacrifices and Jesus's Death?
15. Did Jesus Die Willingly?
16. What Did Jesus's Death Accomplish?
17. If Jesus Is God, How Could He Die?
18. Where Was Jesus between His Death and Resurrection?
PART 4: THE RESURRECTION OF JESUS
Overview
19. Why Does It Matter If Jesus Was Resurrected?
20. What Historical Evidence Is There for Jesus's Resurrection?
21. Was Jesus's Tomb Really Empty?
22. Did Jesus's Disciples Lie about the Resurrection?
23. Were Jesus's Disciples Mistaken about the Resurrection?
24. Did People Invent the Resurrection Many Years Later?
PART 5: THE DIFFERENCE JESUS MAKES
Overview
25. What Is a Christian?
26. How Is a Person's View of the Bible Different as a Christian?
27. How Is a Person's View of God Different as a Christian?
28. What Does It Mean to Be Saved?
29. What Does It Mean to Trust Jesus?
30. Why Do Christians Want to Share Their Faith with Others?
Natasha Crain is a national speaker, author of four books, blogger, and podcaster who is passionate about equipping Christians to  think more clearly about holding to a biblical worldview in the midst of an increasingly challenging secular culture. She has been featured on radio and TV shows across the U.S. and Canada, and lives in southern California with her husband and three children. She writes at natashacrain.com.