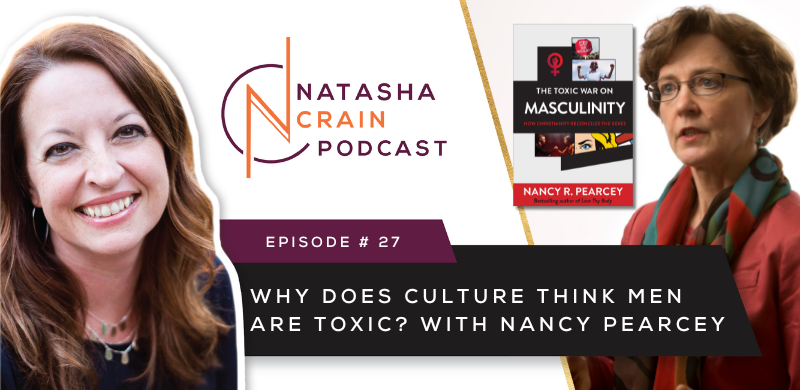 I am honored to have on my podcast today Nancy Pearcey, who is one of my all-time favorite authors. We're talking about her brand new book, The Toxic War on Masculinity: How Christianity Reconciles the Sexes. It is an absolute must read.
If you don't already know about Nancy, she is a bestselling author and speaker. She's a former agnostic and was hailed in The Economist as "America's pre-eminent evangelical Protestant female intellectual." She is currently a professor and scholar-in-residence at Houston Christian University. Her books have been translated into 18 languages and include Total Truth, The Soul of Science, Saving Leonardo, Finding Truth, and Love Thy Body.
In her new book, Nancy explains how secularism has villainized the concept of masculinity. For example, one researcher analyzed more than 2,000 mass media portrayals of men and found that more than 75 percent of those portrayals made men out to be "villains, aggressors, perverts, and philanderers."
The question is, how did we get here? How did we get to the point where men are seen so negatively that they're literally considered by many to be "toxic"? And what does the Bible say about what it means to be a man? That's what we dig into in this new episode of The Natasha Crain Podcast.
Be sure to subscribe to my podcast in your podcast player to be notified of new episodes as they're released. If you don't have a player because you don't normally listen to podcasts, you can always listen to my episodes right here in your browser.
As a reminder, Alisa Childers, Frank Turek, and I will be doing our next Unshaken Conference on September 23rd in Tucson, Arizona, and tickets are now available! We'll also be in Nashville on November 4th. Get tickets for either date here.
Finally, if you're waiting on part 2 of my podcast on "Public, Private, or Homeschool," I haven't forgotten! I had a couple of great interviews I wanted to get out first (another will be posted next week), and then I will be able to tackle part 2. In the meantime, I hope you enjoy the fascinating content today from Nancy Pearcey!