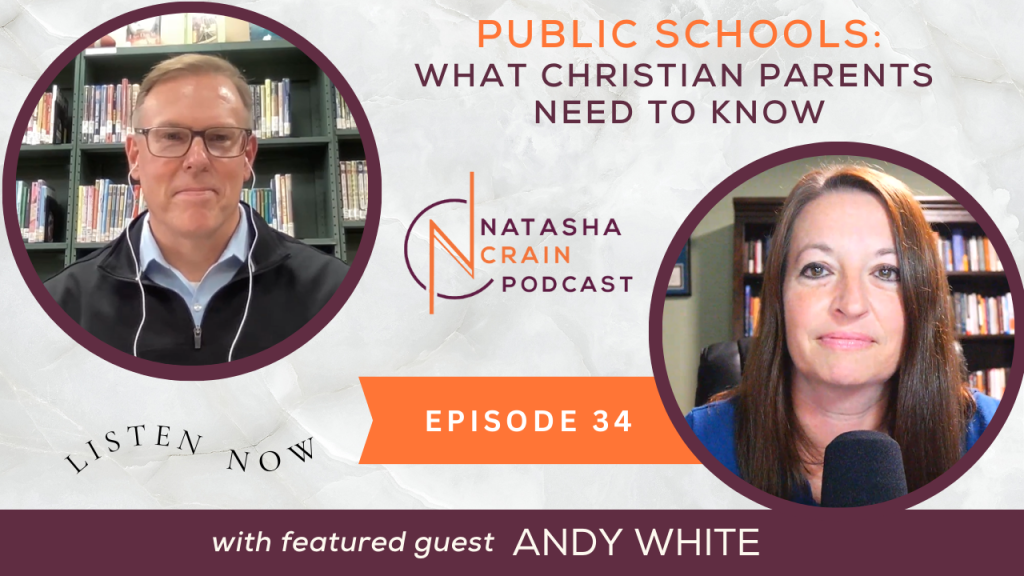 Back in June, I started a three part series on educational choices for Christian families. The first episode was called, "Public, Private, or Homeschool? Thinking Through Your Child's Education [Part 1]." In that show, I talked about several principles every Christian parent should consider when thinking through their child's education, and then I shared my thoughts on homeschooling in particular.
Then, in August, I did a second part to this series called, "Christian Private Schools: What Parents Should Know." I presume the title is self explanatory.
Today, I'm thrilled to share the final part of the series…this one on public school. My guest today is Andy White, who has been a public high school principal for 19 years and is also a Christian. He has a wealth of inside knowledge on the public school system, which he shares in this episode to help Christian parents whose kids are in public school understand what concerns they should be aware of and how they can respond. I personally learned so much from Andy, and I know you will too.
And even if your kids are not in public school, you should understand the system and what concerns Christians have today. I recommend listening to this episode no matter where your own kids currently are (or even if your kids are grown or if you don't have kids but want to be equipped to share this knowledge with others in your community!).
To listen, search for The Natasha Crain Podcast on your podcast player, and be sure to subscribe! If you don't have a player because you don't normally listen to podcasts, you can always listen to my episodes in your browser here.
Today's episode is sponsored by Summit Ministries. Summit Ministries' Student Conferences are two-week sessions held in Colorado and Georgia each summer that give 16- to 22-year-old students reasons to trust the biblical foundation you've laid for them. Students have the opportunity to wrestle through the hard questions of their faith with world class speakers like Sean McDowell, Greg Koukl, J. Warner Wallace, Frank Turek, John Stonestreet, and many more. If you've not been able to do a lot of apologetics and worldview teaching with your kids, this is the perfect opportunity to give them a deep dive. And even if you have, this is the perfect opportunity for your kids to hear it from someone else, because at this age, that's important…and that's why I'm sending my own kids this summer! Registration is opening very soon for Summer 2024, and they're offering my readers and listeners a $200 discount if you use code natasha200. Financial assistance is also available to those in need. Go today to www.summit.org/natasha, where you can click the button that says, "Be the first to know." Fill out the form, and they'll tell you as soon as registration opens!